When it comes to purchasing antique styled jewellery, it is important to be acquainted with the characteristics of each period of history to help distinguish which era your tastes desire.
Georgian
The Georgian period ran from 1714-1830 and was characterized by flowers and organic themes, and silver fused with yellow gold were very popular. Rose-cut diamonds, flat-top garnets and coloured gemstones were highly used in the Georgian period.
While large diamonds were popular with royalty and the rich and noble, rings with smaller clusters of diamonds cut with old world rose or table cuts often had a light piece of reflective foil beneath the stones to increase the brilliance. Many rings in the Georgian era were also created with materials which included royal blue glass, rock crystal, and marcasite.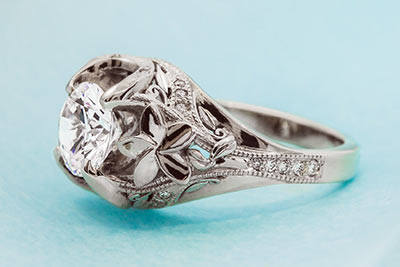 Victorian
The Victorian era from1837-1901 trends used romantic love tokens, and sentimental themes ruled: hearts, love knots, bows, florals, moons and snakes; signifying enduring love. The Victorian era also manifested due to the Industrial Revolution and the discovery of the diamond mines in South Africa.
Other significant characteristics of the Victorian Era jewellery were an increased availability of coloured gems, a reduction in the price of gold, and as a result, the craftsmen in the era started to expand creativity with yellow and rose gold, and by applying details like engraving and filigree. Sapphires and gallant coloured gemstones became increasingly popular, and diamonds were used in ways that had never been seen before.
Art Nouveau
The Art Nouveau era from 1880-1910 began with the industrial revolution and artistic expression purposely used precious and non-precious metals with unusual coloured gems as symbols of nature. Insects, birds and floral motifs were very popular in this era.
Feminine curvatures, easy colours and imaginative designs, and exceedingly romantic is one way to define Art Nouveau jewellery.  While earlier Victorian and later Edwardian jewellery was worn by the upper classes and those who emulated them, Art Nouveau jewellery was worn by those with more free spirited style. With intricately beautiful settings they were almost always attention grabbing. Expensive diamonds were dropped and semi-precious stones like opal, moon stone, amethyst, topaz and pearls replaced them. Diamond rings from the Art Nouveau era usually feature grouped smaller diamonds rather than one large centre stone.
Edwardian / Belle Époque
Although only a very short period of less than ten years, the Edwardian period was one of the most popular periods of mass production booms. Platinum was introduced during the Edwardian / Belle Époque period from 1901-1915, and in turn influenced new settings for diamonds. It portrayed the grace of King Edward VII and the daintiness of French décor. Garland style leaves and flowers, millgrain, perforated and etched metals gave jewellery of this period the appearance of lace and embroidery.
Rings were so popular in this period that a number of them would be worn on each hand. Rings were created for the wealthier, leisure class with a gorgeous expensive appearance, but with a more modest look than earlier jewellery periods. The period's popular elegantly white clothing was coupled by honeycomb designs, scallop contours and well-proportioned platinum ribbons of diamonds. White diamonds on white metal rings were fashioned to match the brilliant lace of this period.
Art Deco
The Art Deco era from 1920-1939 corresponded with women attaining the right to vote in America, and it encompassed the new world with streamlined white diamond and platinum forms, inspired by hustle & bustle and sky scrapers. Vibrant rubies, jade, sapphires, onyx and frosted quartz juxtaposed against hand-cut diamonds to leave an ever-lasting influence in design. Art Deco was a time of luxury, high social order and radical designs. The Art Deco style used majestic and sophisticated geometry, protracted rounded lines and bold use of colour to emulate these characteristics.
Retro
The Retro period from 1939-1950 (World War II) turned to low carat gold and less-precious or imitation stones when platinum and jewels became of limited supply. Retro ring styles were an amalgamation of Art Deco designs paired with the free flow panaches of the Edwardian and Art Nouveau eras.
Rings made during this era feature geometry with movement. Circles corresponding with squares, rectangles and oval shapes together. If it didn't match geometrically, it was a perfect retro era combination.
Mid-20th century
During the mid-20th century from the 1950s to the 1970s cocktail party jewellery became more extravagant, with three-dimensional, creative and stylised animals set with brilliant semi-precious stones. Solitaire diamonds became very popular in this era, and highly innovative designs began to emerge.
With this information now at hand, you should have a better idea on the influences each era had in jewellery design, you can now begin your search for the perfect antique style engagement ring.